Vinasc is the unit specialized in Auditing services, Accounting services, Tax consulting services … and is licensed for business by Department of Planning and Investment of Ho Chi Minh City. Vinasc is granted the certificate of eligibility for tax procedure services under the provisions of Circular No. 117/2012 of the Ministry of Finance guiding the tax procedure services practice by the Ho Chi Minh City Department of Taxation and the General Department of Taxation.
Vinasc is also accredited by the Vietnam Association of Certified Public Accountants, Vietnam Association of Chartered Accountants, and granted the certificate of eligibility for the provision of accounting and auditing services by the Ministry of Finance.
Vinasc is established and operates under the Law on Enterprises No. 68/2014. In the course of operation, Vinasc complies with regulations on conditions of service provision and practice management, in details:
Auditing services:
Law on Independent Audit No. 67/2011/QH12 dated March 29, 2011
Decree No. 17/2012 guiding the Law on Independent Audit
Circular No. 157/2014/TT-BTC regulating the audit service quality control
Decree No. 105/2013/ND-CP regulating administrative violations in domains of accounting and independent audit.
Circular No. 202/TT-BTC guiding the instruction for registration, management and publication of list of auditors
Circular No. 203/TT-BTC on the order, the procedure for the issuance, the management, and the use of Certificates of eligibility for providing audit services
Circular No. 150/2012/TT-BTC guiding the update of annual knowledge for auditors registered for audit practice.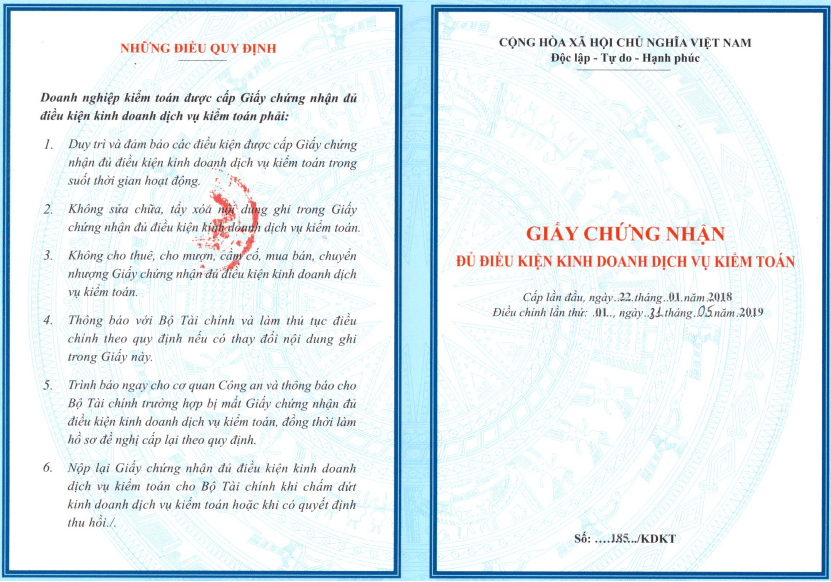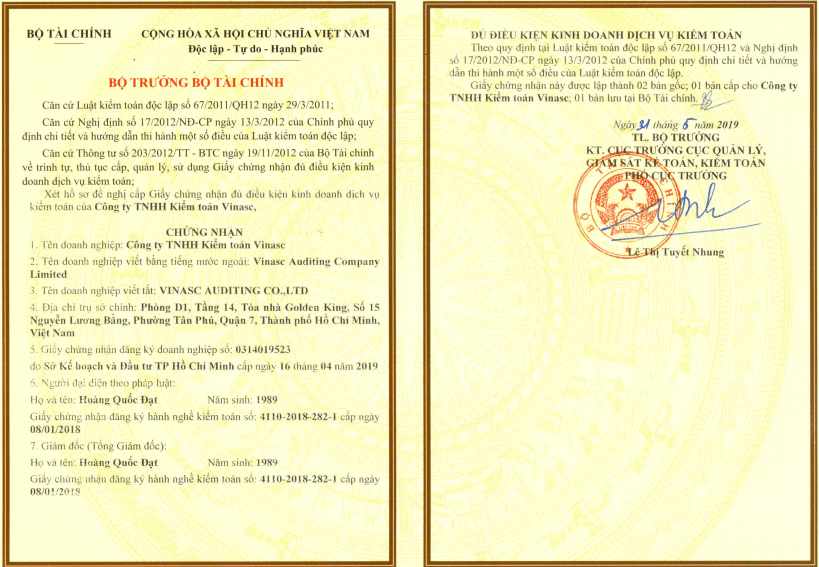 Accounting services:
Accounting Law No. 88/2015/QH13 dated November 20, 2015.
Decree No. 174/2016/ND-CP guiding the Accounting Law.
Decree No. 105/2013/ND-CP regulating administrative violations in domains of accounting and independent audit.
Circular No. 292/2016/TT-BTC providing guidance on updating annual knowledge for practicing accountants and persons registered for accounting practice.
Circular No. 296/2016/TT-BTC providing guidance on the issuance, withdrawal and management of accounting practice registration certificates.
Circular No. 297/2016/TT-BTC on the issuance, management, and use of Certificates of eligibility for providing accounting services.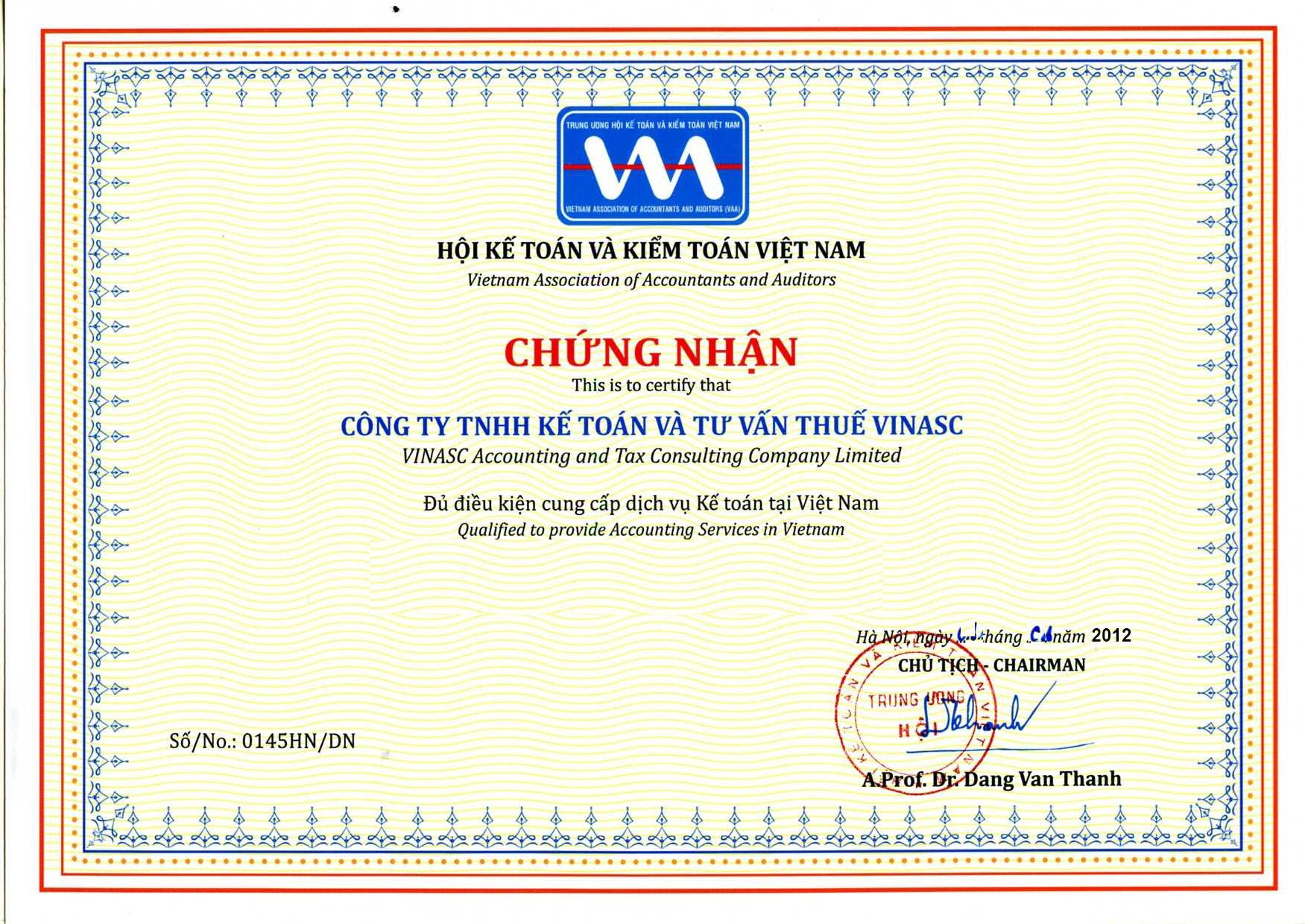 Vinasc wishes to become a modern style and strong consulting organization with creative labor efforts. We are promoting the application of technology in management and labor in order to raise productivity and standardize service quality.
Vinasc will create the most favorable environment, bring the best opportunity for each member to develop and promote their talents. At the same time, Vinasc will bring our members the best life both in terms of material and mental aspects.
Vinasc will make the clients satisfied with the style of work and assurance about the service quality. Furthermore, Vinasc is not just a name but a reliable brand and destination for both domestic and foreign clients.
Vinasc is striving to become a brand with the leading consulting service in Vietnam. Our services will support the companies as well as the investors to operate more effectively and safely.
Vinasc with many member companies such as Investment consulting, legal consultancy, accounting, tax, audit …. will create value chain and overall service solution for the companies.
Vinasc creates trust for the investors to invest into Vietnam, creates motivation for economic development and contributes to national prosperity.
CORE VALUES
Our path of success
We always keep the identity of our business
To comply with Laws, Code of Conduct and rules, policies and regulations.
To respect the established ethical standards and act accordingly.
Integrity and transparency in all actions and transactions.
To have self-respect, to respect colleagues. To respect the Company and partners. To cooperate with respect
All private information and materials are all required to keep confidential.
To be fair with employees, customers and other affiliated parties.